Dr. Nirit Weiss-Blatt, Ph.D.

 

About the Author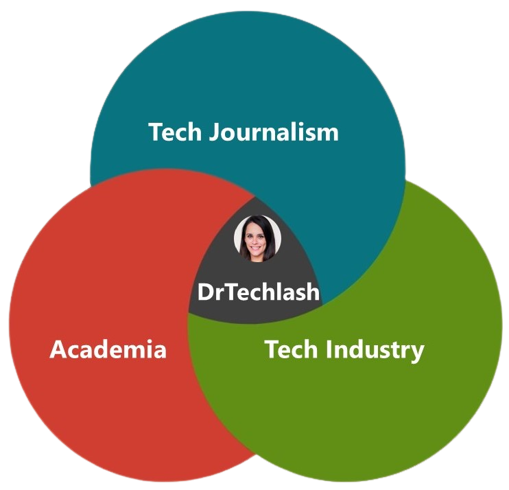 Dr. Nirit Weiss-Blatt, Ph.D., is the author of "The TECHLASH and Tech Crisis Communication." She is a Former Research Fellow at the University of Southern California, Annenberg School for Communication and Journalism.
Her area of expertise is tech media: Having worked in tech PR and tech journalism, her research focuses on tech discourse, especially around emerging technologies.
Dr. Weiss-Blatt is a contributor to Techdirt and also published in The Daily Beast, Newsweek, Big Think, and Tech Policy Press.
She was quoted in The Washington Post, WIRED, Forbes, VentureBeat, Engadget, Slate, Fast Company, The Independent, and Le Monde.
The Techlash Book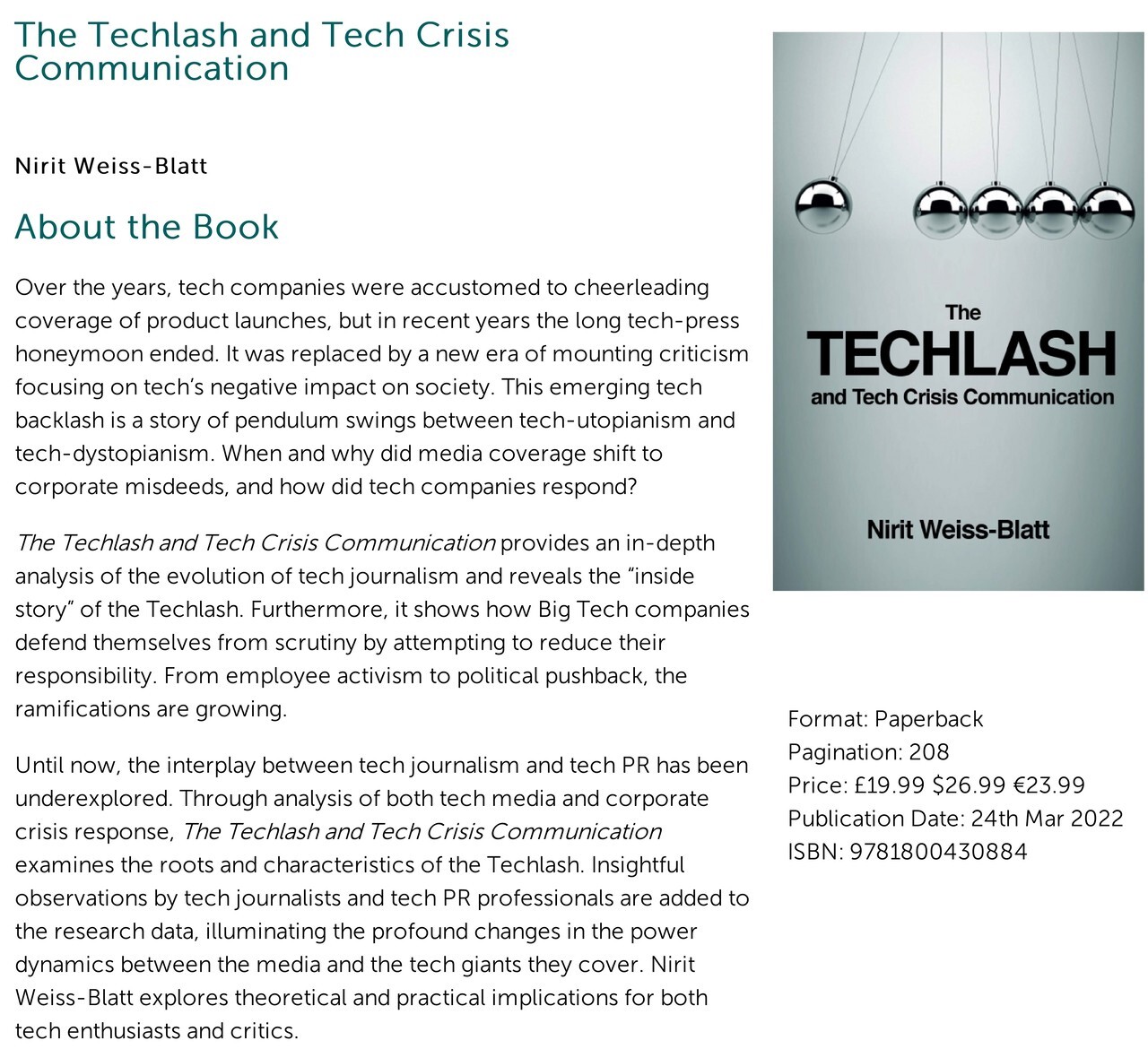 "The TECHLASH and Tech Crisis Communication" book is about Tech Journalism and Tech PR.
It Tells the "Inside Story" of the Backlash Against Big Tech.
- Research Questions:
1. When and why did the tech coverage shift?
2. How did tech companies respond to the rise of tech criticism? Which crisis communication strategies were utilized?
3. What can we learn about the more profound changes in the power relations between the tech media and the tech giants they cover?
- Research methods:
1. AI-Media monitoring, Big Data analytics – to identify the tech companies' peaks of coverage and evolving criticism.
2. Content analysis of the tech companies' crisis responses – to reveal their strategies.
- Most analyses focused on Facebook, Google (Alphabet, including YouTube), Twitter, Uber, Apple, Microsoft, Samsung, Yahoo, and Amazon.
Also in the book: IBM, Intel, Tesla, and Equifax (due to its data breach = "The largest data breach of personal information in history").
3. In-depth interviews with actors on both sides of the story, leading tech journalists and tech PR professionals – to create a virtual panel of experts, debating the broader meaning of the Techlash.
Contents
THE PRE-TECHLASH ERA Section
Chapter 1. Tech News and Tech Public Relations

THE TECHLASH ERA Section
Chapter 2. Big Tech – Big Scandals
Chapter 3. Tech Crisis Communication
Chapter 4. Evolving Techlash Issues

THE POST-TECHLASH ERA Section
Chapter 5. Never-Ending Criticism?
Sample chapter
You can read a free chapter of the book here:
Book2Look
Hardcover | Paperback | eBook | Audiobook

Endorsements
"In this deeply researched work, Nirit Weiss-Blatt provides an invaluable record of tech media's mood swing as its portrayal of Silicon Valley lurches from utopian to dystopian. What's most surprising and insightful here is Weiss-Blatt's well-documented evidence that the shift from tech-love to techlash came with the election of Donald Trump, as journalists chose to blame internet companies for his rise rather than examine their own culpability. This is much more than a book about tech's PR problems. It is a trenchant analysis and indictment of the news industry's simplistic, binary worldview. Overall, the Techlash book restores nuance to the debate over technology and society."
- Jeff Jarvis, Director, Tow-Knight Center for Entrepreneurial Journalism, The Leonard Tow Professor of Journalism Innovation, CUNY, Blogger, BuzzMachine. He is also the author of "What Would Google Do?", "Public Parts", "Geeks Bearing Gifts", and "Gutenberg the Geek."
"Nirit's in-depth study of tech media chronicles the reputational rise and fall of an entire industry while providing valuable insights to those who work in it. The book provides PR professionals, journalists, and students with a comprehensive analysis of the Techlash's core issues. Whether you're working in tech journalism or tech PR, the book will broaden your understanding of the media scrutiny, the tech clients, and, thus, help you define the future correspondence between the two."
– Fred Cook, Chairman of Golin, Professor of Professional Practice, Director of the USC Center for Public Relations. He is also the author of "Improvise: Unconventional Career Advice from an Unlikely CEO."
Expert interviews
The full list of interviewees includes their positions at the time of the interview.
Their observations throughout the book reflect their personal points of view and do not represent their organizations.
Tech journalism
The Atlantic - Alexis Madrigal, Staff Writer
The Verge - Casey Newton, Senior Editor & Silicon Valley Editor
BuzzMachine - Jeff Jarvis, Blogger / Director, Tow-Knight Center for Entrepreneurial Journalism, The Leonard Tow Professor of Journalism Innovation, CUNY (The City University of New York)
BuzzFeed News - John Paczkowski, Technology and Business Editor
Reuters News - Jonathan Weber, Global Industry Editor for Technology
TechCrunch - Josh Constine, Editor-At-Large
Recode - Kara Swisher, Co-Founder and Co-Executive Editor
New York Times - Kashmir Hill, Technology Reporter
TechDirt - Mike Masnick, Founder and Editor in Chief
The Information - Nick Wingfield, Senior Editor
CNET - Richard Nieva, Senior Reporter
Wired - Scott Thurm, Business Editor
Anonymized - Tech Editor
Tech public relations
LaunchSquad - Brett Weiner, Partner
WE Communications - Katie Huang Shin, President of Technology Sector and Chief Strategy Officer
Ruder Finn - Rowan Benecke, Chief Growth Officer
Golin - Stephen Jones, Executive Vice President, Catalyst Community Leader
Anonymized - Senior PR executive
In the Media
TWiG (This Week in Google) Podcast: How tech journalism changed since 2016
TWiT | Podcast Guru | YouTube: Full episode | What is the TechLash? | transcript
Techdirt Podcast: How the Techlash happend
SoundCloud | Apple Podcasts | Google Podcasts | Spotify | Stitcher | transcript
Innovation Files Podcast: How pack journalism and predictable crisis PR responses have influenced the Techlash
Apple Podcasts | Google Podcasts | Spotify | Stitcher | Castbox | ITIF | transcript
Business Bookshelf Podcast: Dr. Nirit Weiss-Blatt - Author of "The Techlash and Tech Crisis Communication"
Apple Podcasts | Google Podcasts | Spotify | Anchor.FM | Business Bookshelf | transcript
The PRovoke Media Podcast: The role of communication in Techlash
PRovoke Media | Apple Podcasts | Google Podcasts | Spotify | PodBean | transcript
Emerald Podcast Series: Understanding the Techlash Era
Emerald | Apple Podcasts | Google Podcasts | Spotify | transcript
Tech'ed Up Podcast: Big Tech PR: Battling Techlash
Tech'ed Up | Apple Podcasts | Google Podcasts | Spotify | transcript
Keen On Podcast: Why the Techlash Has Gone Too Far
Keen On | Apple Podcasts | Google Podcasts | Spotify
Peoples & Things Podcast: Nirit Weiss-Blatt on The Techlash and Tech Crisis Communication
Peoples & Things | Apple Podcasts | Google Podcasts | Spotify | Stitcher | YouTube
YouTube: AI Hype - Explained. A 25-minute version of my lecture "The Media Coverage of Generative AI."
Tech News Weekly podcast: AI Headlines
Tech News Weekly | Apple Podcasts | Google Podcasts | Spotify | YouTube
AI Inside podcast (Club TWiT members-only show, exclusive content)
- All of Nirit's Techdirt posts
My comment about Facebook's rebrand to Meta generated widespread discussion.
For example, CNN, BBC, The Guardian, USA Today, Yahoo Finance, The Mercury News, The Week UK, The London Economic, Jerusalem Post.
An article in Forbes quoted the book for a discussion about the start-up's ethical movement: "In The Techlash, Nirit Weiss-Blatt chronicles the change in the nature of media coverage of the tech industry, from fawning admiration to a more critical stance that is slightly more capable of seeing warts in the sector."
An article in Forbes quoted the book for a discussion about employee well-being: "Various stories of workers revolting against such practices have emerged in books such as The Techlash, by the University of Southern California's Nirit Weiss-Blatt, and Alex Rosenblatt's Uberland, with such stories taking some of the unvarnished veneers off of the march of technology in recent years."
FamilyandMedia – an international think-tank with research members from Italy, Spain, Mexico, Colombia, and Chile – published a review of my book in three languages:

English, Italian, and Spanish.

The author of this piece is a marketing expert from Italy, who wrote: "In her book The Techlash and Tech Crisis Communication, she explores how – and through which means – tech companies have responded to the spreading negative sentiments about them and summarizes valuable lessons."
The Washington Post published an article on how social media content moderation wars are moving into the AI culture war:

The right's new culture-war target: 'Woke AI

.' My quote concerns Big Tech's failed attempt to avoid those AI-content moderation battles (more context - here).
Erik Sherman published on Forbes a column titled "The Real Economic Problem of AI isn't Tech but People." He took Ilya Sutskever's quotes from my "What Ilya Sutskever Really Wants" post. Then, he added: "There is a lot going on under the surface. Nirit Weiss-Blatt, a communications researcher who focuses on discussions of technology, has referred to 'AGI utopia vs. potential apocalypse' ideology' and how it can be 'traumatizing.'" (Indeed).
- Quotes during OpenAI's Saga: